UNIQUE BIRTHDAY IDEAS. FOR 5 YEARS OLD TO TEENAGERS.
The price of a "kimono party", or any of my other Japanese-themed celebrations, is determined by a number of considerations.
These include:
the type of event
the size of the event
the number of guests
the distance I must travel to reach your venue.
The typical duration of my involvement in your event is 2 hours. The assigned agents will arrive 15-30 minutes earlier to set up and prepare. Although the majority of my customers are located in London, I may accept bookings from further away by special arrangement. It's also perfect for hosting your kimono party at home. I cater for a small intimate group, and up to around 40 children can join the party. It depends on the size of the kimono so please ask the actual number I can cater for your party. I also stock some outfits for boys.
Beautifully made original party invitations with envelopes and original cotton bags are all included in the price.
To receive a quote for your special occasion, please get in touch. I will ask you to supply the information necessary for me to quote you a fair and accurate price.
T A K A Y O's KIMONO PARTY (5-16 YEAR OLD)
With the emphasis on fun and creativity, young partygoers will love this colourful and entertaining way to celebrate their friend's birthday or special occasion.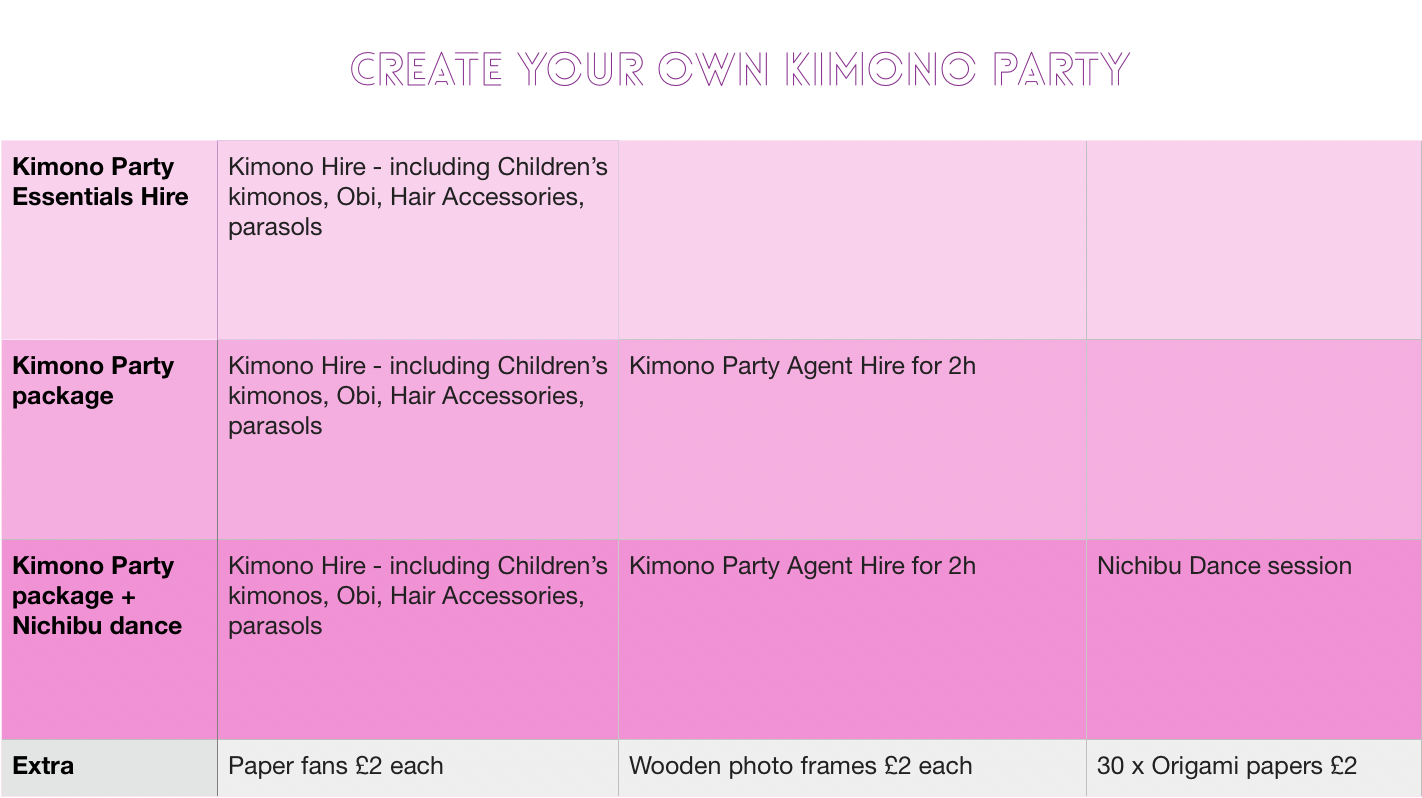 Do you want to be creative and do your own kimono party? 
Dressing a kimono (Yukata) is easy! I have created a video to navigate you to put a kimono on a child and fold the kimono at the end of the party. They're made of cotton and they can be creased easily if you don't take care of them. Join the fun and you can add some craft activities while the children are mesmerised by themselves and then finish off the party watching a Studio Ghibli Film on Netflix.
Do you want to sit back and relax? 
Let us run your child's kimono party! All you need to do is to prepare some snacks and the cake.
What's included in our Kimono Party Package 
– Beautifully made original party e-invitations
– All the equipment for a kimono makeover and fun props
– Cute mini Japanese stickers to take home
– All the equipment and materials for a Japanese photo frame making or fan decorating
– A selection of Japanese fun music from Studio Ghibli to the latest kids' anime songs
 All children will get the chance to:
Learn Japanese culture and history and receive some cute stickers from Japan
try on an authentic yukata (summer kimono) to discover how different it feels from normal, everyday clothes
see the birthday girl receive an amazing makeover and choose her own very special kimono and beautiful accessories
all the guests can experience a makeover with fun props and accessories, all ready for the kimono fashion show to record the special day
create their own gorgeous kimono photo frame with exquisite Japanese Yuzen papers or practice the traditional arts of calligraphy and design their own fan for them to take home after the party
Party Essentials Hire package from £25 per kimono