– Get access to the recorded YouTube content from past events below –
An immersive experience of sensual Japanese Culture
Feeling open-minded? Join us, and become a character exploring the hedonism, transgression and unabashed naughtiness of ancient Edo period Japan. Welcome to the pleasures of the Floating World.
T A K A Y O recreates a mysterious teahouse in the twisting alleys of an ancient red light district. Step over the threshold and be instantly transported to a strange and fascinating world. A place where, from the 17th through to the 19th century, Japanese sophisticates enjoyed many forms of art and entertainment. And also indulged in extravagant and unashamedly erotic pursuits. Their adventures are recorded in the exquisite paintings and woodblock prints of the time. This is Ukiyo, also known as the Floating World.
FLOATING WORLD ONLINE
From the comfort of your home, experience Japanese culture in Edo period, learn the history and tantalise your curiosity with a decadent journey through pictures of the Floating World.
Takayo will be guiding you through this virtual presentation in a full kimono. 
Once payment is received, we will be in contact to provide the details of accessing the Youtube recorded content.
What you need to know
Virtual Floating World is an online Japanese cultural experience.
Learn the secret world of Japan through our presentation on Shunga.
Over 18s only.
This ticket cannot be cancelled, refunded, exchanged or used in conjunction with any other offer.
Price £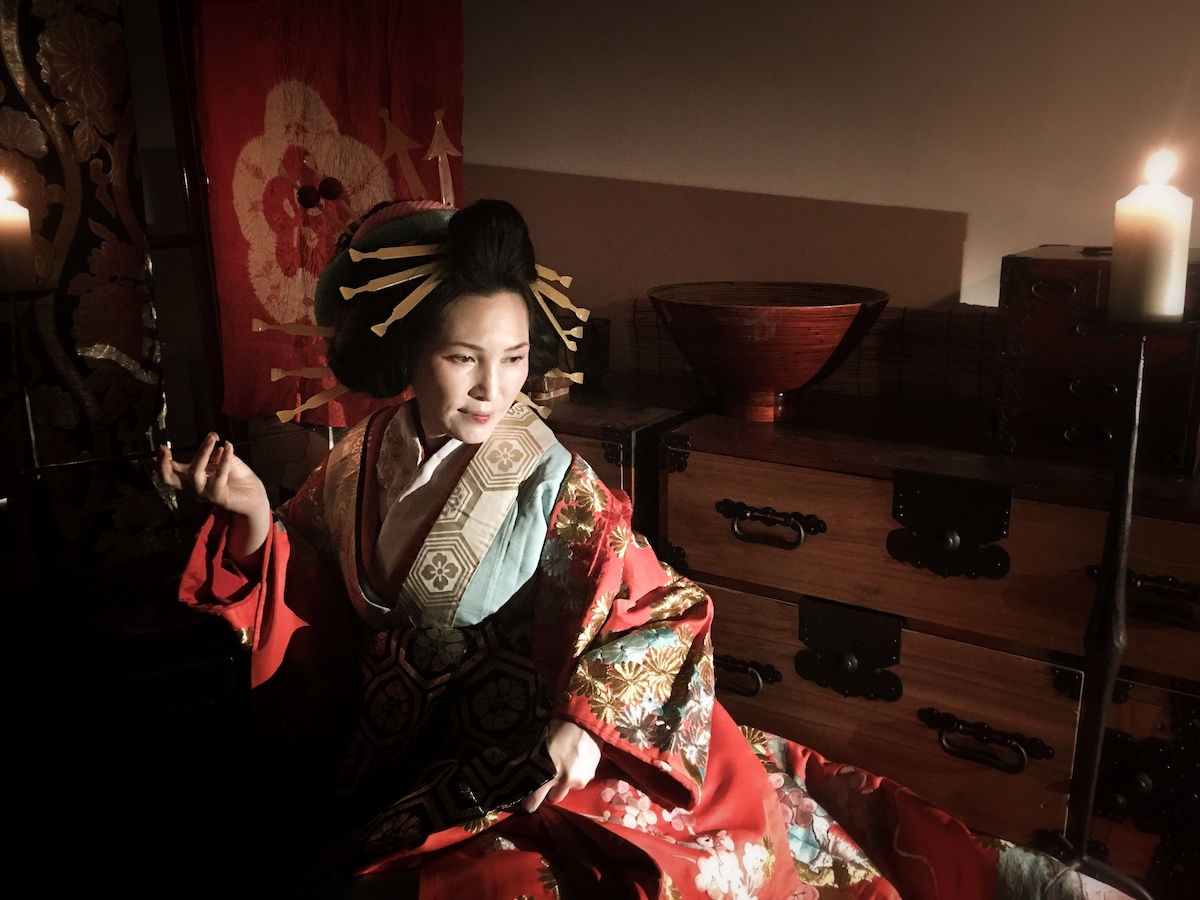 FLOATING WORLD OIRAN SPECIAL
Find out Japan's secret behind closed doors
The Oiran were considered a type of yūjo "woman of pleasure" or prostitutes in the Edo period in Japan. However, the Oiran were vested the Senior Fifth Rank by the government. The Senior Fifth Rank was equivalent to the feudal lord. Oiran is one-of-a-kind courtesans who had the advantage and status as high as the high-ranked samurais. They were also called the women who could collapse the castle. Moreover, they possessed the most elaborate kimonos and were regarded as fashion leaders. Only a few women could get the Oiran status amongst over 2000 prostitutes.
Takayo transformed herself into a celebrity Oiran (Japanese highest-ranked courtesan from 200 years ago) for the special night. She tells you the history and life and their struggle to carve out a life for themselves in adversity behind their ravishing life. It is a rare opportunity to see the elaborate costume and over-elaborate hairstyle which takes hours to put on.
Do you know the difference between geishas, concubines and courtesans?
Want to learn some tips on seduction from the pros?
Simply curious?
Once payment is received, we will be in contact to provide the details of accessing the Youtube recorded content. 
Price £9
GET YOUR TICKETS HERE
★★★★★
I NOW KNOW WHY YOUR EVENT IS SO POPULAR!
Almara Abgarian
– METRO –
THE ATMOSPHERE IS BRILLIANT, THE NIGHT HAS BEEN HILARIOUS, POSSIBLY THE FUNNIEST AND MOST MORTIFYING MOMENT OF MY LIFE 
Samantha Rea
– LONDONIST –
"HALLOWEEN EVENTS LONDON 2018: THE EDITOR'S PICK"
– CONDE NAST TRAVELER –
"IMMERSIVE EXPERIENCES LONDON 2019: EVENTS TO BOOK"
– CULTURE WISPER –
– Dietary requirements?
You can tell us about dietary requirements during the booking process. If you need to update these at any time, just email us at info@takayo.co.uk
We can accommodate most requests 48 hours in advance. Unfortunately, we will not be able to meet demands made only on the night.
For those with serious food allergies, please see our Terms and Conditions and be aware that while we do our best, we cannot guarantee any menu is 100% free of allergens.
Please make sure to follow our social media or sign up to our news letter for updates
Our Partners and Sponsors
  
Share your experience with #Floatingworldldn